2018 rugsėjo 7-9 d. nedideliame Ukrainos mieste Mogiliov Podolske (Vinnicos sritis) vyko III tarptautinis liaudies meno festivalis "Ukrainos karpiniai" ("Украiнська витинанка"). Festivalyje dalyvavo 32 liaudies meno meistrai iš Ukrainos, Lietuvos, Baltarusijos, Moldovos. Lietuvai atstovavo trys Vilniaus krašto tautodailininkų-meno kūrėjų asociacijos menininkės vilnietė Laimutė Fedosejeva, uteniškės Odeta Bražėnienė, Gita Juškėnienė.
Komanda aktyviai dalyvavo visose festivalio renginiuose: pagerbė žuvusius kovose už laisvę, surengė karpinių parodą po Lietuvos trispalve, vedė edukacinius užsiėmimus. Tai buvo nuoširdus bendravimas ne šiaip su kolegomis, o tikrais senais draugais. Vilniaus krašto tautodailininkų-meno kūrėjų asociacija seniai ir tampriai bendradarbiauja su Ukrainos tautodailininkų sąjunga, Mogiliov Podolsko liaudies kultūros centru ir meistrų dalyvavimas festivalyje – puikus šios draugystės rezultatas.

2018 m. rugpjūčio 31- rugsėjo 2 d. dalyvavome ,,Sostinės dienose". Grupė tautodailininkų - tautinio paveldo sertifikuotų amatininkų buvo įsikūrę Menininkų zonoje, Totorių gatvėje. Miestelėnai ir Vilniaus svečiai galėjo įsigyti tautinių juostų, lovatiesių, karpinių, šiaudinių sodų, pintinių ir juvelyrinių dirbinių iš gintaro ir žalvario.

2018 m. rugpjūčio 17-19 d. Liubline (Lenkija) vyko tradicinė tautodailės mugė ,,JARMARK JAGIELLONSKI" (,,Jogėlos mugė"). Mugėje dalyvavo liaudies meistrai iš Slovakijos, Vengrijos, Švedijos, Ukrainos, Baltarusijos, Maroko, Bulgarijos ir Lietuvos, viso 164 dalyviai.
Vilniaus krašto tautodailininkų-meno kūrėjų bendrijai atstovavo Albertas Bartašius (muzikos instrumentai), Lina Bartašienė (raštuotos pirštinės), Žilėnas Domantas (vytinės juostos), Agata Granicka (Vilniaus verbos), Klaidas Navickas (liaudiškoji grafika, karpiniai), Surdokienė Bronė (vytinės juostos), Ramutė Kraujalienė (mezginiai), Danutė Tikužienė (žalvario juvelyrika), Kazancevienė Virginija (skutinėti margučiai), Juozas Kavaliauskas ir Eligijus Latėnas (kalvystė), Deivydas Jotautis (keramika), Laima Kytrienė (raštuotos pirštinės). Edukacinius užsiėmimus, tradicinio šiaudų sodo rišimą pravedė tautodailininkė Roma Gudaitienė. Daugiau

2018 m. rugpjūčio 16-25 d.
Rusnėje vyko II-rasis primityviosios tapybos pleneras. Plenero vadovė menotyrininkė dr.Nijolė Tumėnienė, kuratorė tautodailininkė-meno kūrėja Eugenija Martinaitytė. Plenere dalyvavo Vilniaus LTS Vilniaus ir Vilniaus krašto tautodailininkų – meno kūrėjų narės iš Vilniaus, Širvintų, Druskininkų: Joana Zinkevičienė, Aldona Vasiukevičienė, Raimonda Bolienė, Eugenija Martinaitytė, Danguolė Martinaitienė, Laimutė Širvydienė ir Regina Morkūnaitė, kuri pasirūpino plenero dalyvių apgyvendinimu (Paukščių tyrimo centras).
Dalyvėms buvo suteiktos tapybos medžiagos, kurias panaudojo kurdamos paveikslus. Plenero metu sukurta nemažai kūrinių Rusnės ir jos apylinkių motyvais. Dr. Nijolė Tumėnienė, kiekvienos dienos pabaigoje, analizavo darbus ir teikė vertingas pastabas. Paskutinė plenero diena buvo skirta visų kūrinių aptarimui. Plenero vadovė puikiai įvertino dalyvių saviraiškos individualumą, imlumą pastaboms, gebėjimais originaliai perteikti peizažų nuotaiką. Vadovės nuomone plenero dalyviams buvo suteikta išskirtinė proga susiburti nuostabioje Lietuvos vietoje, Baltijos pajūryje, gebėti per trumpą laiką intensyviai dirbti, stiprinti savo įgūdžius tapyboje. Tautodailininkai planuoja surengti tapybos parodą Vilniuje (vieta derinama) ir Širvintose. Kiekviena dalyvė įsipareigojo po keletą darbų pateikti į įvairias regionines parodas.

2018 m. liepos 7-8 d.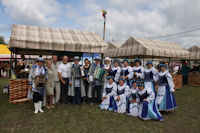 Aleksandrijoje (Baltarusija) vyko didžiulis renginys
,,Aleksandrija kviečia draugus". Programoje įvairūs koncertai, parodos, edukaciniai užsiėmimai, mugė.
Lietuvai atstovavo Vilniaus krašto tautodailininkų-meno kūrėjų bendrija, Laimutė Fedosejeva - popieriaus karpiniai, Vladislovas Kozlovskis - buitinė medžio drožyba, Egidijus Latėnas - kalvystė.

2018 m. liepos 3-4 d. Bernardinų sode ir Pilies teritorijų prieigose 2018 LIETUVOS ŠIMTMEČIO DAINŲ ŠVENTĖS VARDAN TOS..., Folkloro dienos DIDŽIŲ ŽMONIŲ ŽEMĖ programoje – tautodailės dirbinių mugė, kurioje dalyvavo 129 tautodailininkai iš visos Lietuvos. Mugės lankytojai turėjo galimybę susipažinti su paprotinės ir taikomosios liaudies dailės kūrėjais ir įsigyti kūrinių: margučių, juostų, sodų, keramikos, medžio skulptūrėlių, gintarinių ir žalvarinių papuošalų.

2018 m. liepos 2 -31 d. Švč. Mergelės Marijos Ramintojos bažnyčioje Vilniuje veikė respublikinė liaudies meno paroda ,,Gyvos jungtys". Tai vienas iš daugelio 2018 Lietuvos šimtmečio dainų šventės VARDAN TOS... renginys. Parodos rengėjas - Lietuvos nacionalinis - kultūros centras. Partneriai – Lietuvos tautodailininkų sąjungos regioniniai skyriai. Parodoje pristatyta vaizdinės, taikomosios ir paprotinės liaudies dailės tautodailininkų kūryba. LTS Viliaus bendrijai atstovavo 118 tautodailininkų iš Vilniaus ir Utenos regionų. Šiai progai specialiai išleistas LIETUVIŲ LIAUDIES MENO PARODOS katalogas.

2018- m. gegužės 25-27 d. Vilniuje, vyko tarptautinis autentiškosios tautinės muzikos festivalis ,,Skamba skamba kankliai". Koncertai vyko daugelyje sostinės vietų, kiemų ir aikščių, o S.Daukanto aikštėje įsikūrė Lietuvių ir festivalio svečių tautodailės darbų kūrybinės dirbtuvės ir mugė ,,Darbas meistrą giria". Renginyje dalyvavo per puse šimto tautodailininkų iš visos Lietuvos, bei sostinės Vilniaus. Kūrybinių užsiėmimų metu buvo mokoma lipdymo iš molio, medžio drožybos, juostų audimo, riešinių, pirštinių mezgimo ir raštų derinimo, karpinių ir kt.

2018 m. gegužės mėn.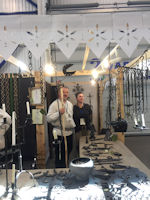 Lietuvos valstybės atkūrimo šimtmečio proga Vilniuje, parodų ir kongresų centre ,,LITEXPO", įvyko tarptautinė žemės ūkio ir maisto pramonės paroda ,,AgroBalt 2018". Parodoje dalyvavo daugiau kaip 200 dalyvių iš Kinijos, Ispanijos, Čekijos, Rumunijos, Belgijos, Makedonijos, Italijos, Latvijos, Lenkijos ir Lietuvos. Kiekviena šalis pristatė tai, ką sukūrė įdomiausio ir originaliausio, galima buvo įsigyti ir paragauti išskirtinės kokybės maisto produktų, susipažinti su tradiciniais amatais ir kt.
Vilniaus krašto tautodailininkų-meno kūrėjų bendrija šioje parodoje eksponavo tautodailininkų- sertifikuotų tautinio paveldo amatininkų dirbnius: tradicinius sodus (Roma Gudaitienė), liaudiškąją grafiką, karpinius (Adelė Bražėnaitė), keramiką (Erikas Hincas) ir tradicinius taikomosios medžio drožybos dirbinius (Vladislavas Kozlovskis).
Parodoje įteikta 20 aukso medalių tradicinių maisto produktų gamintojams ir maisto pramonės idėjų bei iniciatyvų autoriams. Šimtmečio maisto produktu paskelbtas šakotis. Parodos ,,AgroBalt" aukso medaliu ,,Už patriotiškumą puoselėjant šimtametes tradicijas" apdovanotas vilnietis tautodailininkas VLADISLOVAS KOZLOVSKIS. Gaminys - GELDA.

2018-05-02 Lietuvos edukologijos universiteto galerijoje "Verdenė" vyko Vilniaus miesto moksleivių liaudies dailės konkursinės parodos "Sidabro vainikėlis" uždarymas. Parodos organizatoriai:
Lietuvos tautodailininkų sąjungos Vilniaus bendrija Vilniaus krašto tautodailininkų meno kūrėjų bendrija Lietuvos edukologijos universitetas

2018 m. balandžio 24-28 d. Mogiliove (Balatarusija) vyko tradicinis VI-asis tarptautinis forumas ,,Tradicinė kultūra - strateginis darnios visuomenės vystymosi resursas" (VI international forum ,,Tradicional culture as a strategic resource of sustainable development of the sciety"). Forumą organizavo Baltarusijos kultūros ministerija, Mogiliovo vykdomasis komitetas, Mogiliovo srities kultūros ir švietimo veiklos metodinis centras.
Renginyje dalyvavo 12 –os šalių atstovai iš Azarbaidžano, Estijos, Latvijos, Gruzijos, Kazachstano, Kinijos, Kirgizijos, Rusijos, Ukrainos, Uzbekistano, Baltarusijos. Lietuvą šiame forume atstovavo Vilniaus krašto tautodailininkų-meno kūrėjų bendrijos pirmininkė Ramutė Kraujalienė ir tautodailininkė-meno kūrėja Laimutė Fedosejeva. Laimutės skaitytas pranešimas ,,Lietuvių liaudies amatai kūrybinių industrijų kontekste" sulaukė ypatingo dalyvių dėmesio ir klausimų. Organizatoriai išleido visų skaitytų pranešimų rinkinį baltarusių ir anglų kalbomis, Benru dalyvių sustarimu priimta mokslinės-metodinės konferencijos REZOLIUCIJA. Įvykę puikūs draugystės vakarai, susitikimai su vietos bendruomenėmis, tautodailininkais, pažintinės ekskursijos paliko neišdildomus prisiminimus ir tolimesnius draugiškus ryšius su bendraminčiais, puoselėjančiais etninę kultūrą savo šalyse. Už šį renginį tariame nuoširdų AČIŪ organizatoriams, ypatingai Mogiliovo srities metodinio kultūros centro direktoriui Olegui Chmelkovui sudariusiam galimybę dalyvauti šiame forume.

2018 m. balandžio 23 d. - gegužės 20 d. Utenos Kraštotyros muziejaus patalpose vyko Birutės Jadvygos Mickevičienės paroda skirta tėveliui atminti - ,,Kryždirbystė ir medžio drožiniai skiautiniuose".

2018-03-24 Utenos kraštotyros muziejaus padalinyje VYTAUTO VALIUŠIO KERAMIKOS MUZIEJUJE LELIŪNOSE, atidaryta Vilniaus rajono tautodailininkių - verbų pynėjų paroda 100 VERBŲ TĖVYNEI, skirta Lietuvos nepriklausomybės šimtmečio jubiliejui. Parodos rengėjai Lietuvos tautodailininkų sąjungos Vilniaus bendrija Vilniaus krašto tautodailininkų-meno kūrėjų bendrija

2018-04-18 Vilniaus rajone, Maišiagoloje, HOUVALTO DVARE, buvo eksponuojama grupės popieriaus karpytojų (21 autorius) paroda ,,Lietuva karpiniuose" ,skirta LIETUVOS NEPRIKLAUSOMYBĖS ŠIMTMEČIUI.

2018-04-07 Tradiciniame amatų centre Maišiagaloje vyko knygos-albumo "Vilniaus krašto verbos" pristatymas.
Vilnaus rajono savivaldybės užsakymu išleistas išskirtinis albuminis leidinys "Vilniaus krašto verbos". Teksto autoriai mūsų poetai, rašytojai, žurnalistai p. Henryk Mažul ir p. Voitechas Petrovičius. Nuotraukos Slavomir Subotovič ir Leonas Šalkovski.